Annual Appeal: Give to the Club
Members like you have always been our most valuable resource. At this time of year, we invite you to remember what the Club does all year long: great programs, great community and a wonderful meeting place.
Join the ranks
of members who have sustained the Club—and kept our Viking values strong—for nearly 125 years.
---
More Than a Flash in the Pan
They're talking about our monthly
pancake breakfasts
from coast to coast. In
The Washington Post
, Rebekah Denn looked at classic Scandinavian cuisine in Seattle—and of course no one can discuss that topic credibly without sampling our pancakes. Then a few days later, Megan Burbank profiled our pancakes in
The Seattle Times.
Naturally, this boosted attendance at our Nov. 4 breakfast to more than a thousand people. No problem! We hope they'll come back in December—our pancakes are delicious whether they're in the paper or not.
In addition to pancakes, of course, we serve up ham, coffee, juice, and live entertainment. Stop by on the first Sunday of the month, from August to June, between 8 a.m. and 1 p.m., and you'll see what's making the headlines. $11 guests, $9 Club members, $5 children 5–12 (sales tax included).
---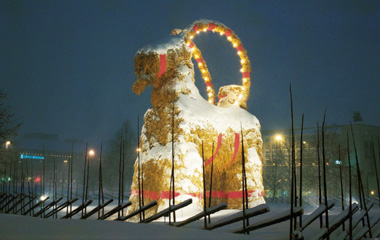 Keep an Eye on the Gävle Goat
When the
Hindenburg
burst into flames, that was unexpected. In Gävle, Sweden, on the other hand, people more or less expect that pranksters will try to set fire to the world's largest
julbock,
or straw goat, which is displayed every year during Advent at Gävle's Castle Square. To find out whether the goat survives until Christmas (there's a 36 percent chance, based on history), check its
Webcam
... or follow the goat on
Twitter
or
Instagram
.
---
Re-chair the Swedish Club!
Help us buy new chairs for the Swedish Club's Stockholm Hall. You can donate any amount—but if you give $300 or more, we'll add a small plaque to the back of a chair with your message on it. Give online or call 206-283-1090.
---
High School Seniors: Apply for Seattle Swedish Community Scholarships
Apply by Mar. 31! Five college scholarship awards, totaling $13,500, are available for high school seniors in King County. Swedish ancestry is not required.
Download an application
today!
---
"Cooking in America" at the Club
Eater
's Sheldon Simeon
stops by the Swedish Club
for
lutfisk
and meatballs. Ever wonder what goes on in our kitchen? You might be surprised.
---
Swedish School Gets Noticed
The Seattle Swedish School, which meets in our building, received a very nice writeup in Swedish magazine
SMUL
. Follow the link and you'll find the article on page 37—in Swedish!
---
Past scholarship recipients Brittany Lewis, Emilia Sternberg and Stephen Swanson.
Support a Scholarship
Donate to our
scholarship fund
and support a student studying Swedish language and culture in the UW Scandinavian Studies department. Invest in the future of Swedish-American cultural exchange.
---