We've Got Class
Our winter
Swedish language classes
start the week of Jan. 8. Average class size is eight to 12 students. Several levels of instruction; expert teachers. One of them, Laura Wideburg, literally wrote the book for once-a-week language students—actually, she's written six books and counting! Print a
registration form
and and bring it to your first class.
---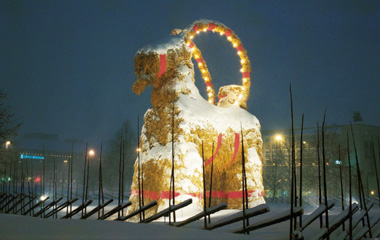 Keep an Eye on the Gävle Goat
When the
Hindenburg
burst into flames, that was unexpected. In Gävle, Sweden, on the other hand, people more or less expect that pranksters will try to set fire to the world's largest
julbock,
or straw goat, which is displayed every year during Advent at Gävle's Castle Square. To find out whether the goat survives until Christmas (there's a 36 percent chance, based on history), check its
Webcam
... or follow the
official blog
.
---
High School Seniors: Apply for Seattle Swedish Community Scholarships
Apply by Mar. 31! Five college scholarship awards, totaling $14,500, are available for high school seniors in King County. Swedish ancestry is not required.
Download an application
today!
---
Swedish School Gets Noticed
The Seattle Swedish School, which meets in our building, received a very nice writeup in Swedish magazine
SMUL
. Follow the link and you'll find the article on page 37—in Swedish!
---
Past scholarship recipients Brittany Lewis, Emilia Sternberg and Stephen Swanson.
Support a Scholarship
Donate to our
scholarship fund
and support a student studying Swedish language and culture in the UW Scandinavian Studies department. Invest in the future of Swedish-American cultural exchange.
---